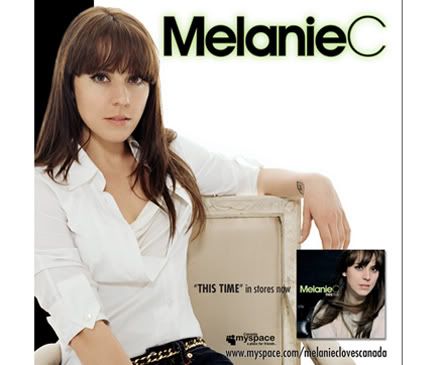 Following the massively successful Spice Girls Tour which saw the group kick-off and end the tour right here in Canada, Melanie C is once again giving her Canadian fans lots to be very excited about!  Her new solo album This Time, which has already garnered rave reviews and become a hit overseas, will be released via Bristol Sessions Recordings/EMI Music Canada on April 8, 2008.  The first single "Carolyna" is already enjoying lots of great radio play here, while the video stations are also showing this track lots of love and support as it currently climbs up the MuchMoreMusic Top 20 Countdown. 
Shortly after today's release of This Time, Melanie C will hit the road on an amazing 9 City Canadian Tour!  The tour kicks off in Montreal on May 4 and then wraps up in Vancouver on May 17.  During her recent promotional stops at MuchOnDemand and MTV Live the overwhelming crowd turnout and reaction demonstrated just how much Canadians love Melanie C and can't wait for this new album!
Melanie C has built a tremendous career in Canada both as a Spice Girl (with sales of over 3 million here) and with her own critically acclaimed solo releases (her first solo album Northern Star was certified Gold in Canada).  Her talent is undeniable as a singer, songwriter and performer with very few artists able to match her success.  She has co-written 11 UK #1 singles – more than any other female artist in chart history – and remains the only female performer to top the charts independently and as part of a duo, quartet and quintet.
Always one to give of her time to others, Melanie C will also be performing at the Denim & Diamonds Charity Event at Marche Bonsecours in Montreal on May 3 – the day before the tour begins.  For more information on this event please call: (514) 340-8255 or go to www.denimdiamonds.ca.
Pre-sale tickets go on sale at Ticketpro.ca on Thursday April 10th at 10am!
Public on sale is Saturday April 12th at 10am!
Click here to visit Melanie C's official website!